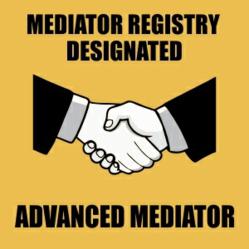 Mediator Registry Now Provides Low Cost Mediations for the Los Ange...

The Mediator Registry provides a listing and designation service for mediators worldwide. In early 2013, the Registry invited all mediators from the soon-to-be-closed Los Angeles Superior Court (LASC) Alternative Dispute Resolution (ADR) program to register and many took the invitation. These mediators can be found by browsing the Mediator Registry.
Read more [HERE]
Assn for Conflict Resolution- The Association for Conflict Resolution (ACR) is delighted to announce a new series of press releases dedicated to public education about healthy conflict resolution in our families, our communities, our workplaces and our world.
Read more [HERE]
Patricia M Porter- Learn how conflict coaching can help you change those dynamics to manage conflict and communicate more productively with your aging parents and adult siblings. You will learn what a conflict coach does, and will take away some tips on how to get unstuck from patterns of communication that aren't working as you navigate the difficult conversations that come with aging.
Dave Hilton- In this episode of the Conflict Specialists Show, Dave Hilton interviews Lee Jay Berman from the American Institute of Mediation.
Some of the topics in today's episode:
Complex Commerical Mediation
Attorney-Mediators vs Non-Attorney Mediators
Fallacy of Impasse
Heavy Metal Mediators
Transitioning from Volunteer Mediator to Paid Mediator
Mediator Starter Kit
American Institute of Mediation
and more!
Noam Ebner- Check out Prof. Kristen Blankley of UNL discussing Limited Scope Representation in her recent short TED-style presentation "How to Get More Clients!  Thinking About Unbundling Legal Services to Settle Cases"
More News, Articles, & Jobs
Increasing Referrals to Small Claims Mediation Programs