Health Care Collaboration and Conflict Resolution
with Laurie Miller Patterson,
Organizational Ombuds,
Akron General Health System, Akron, Ohio
Health Care Collaboration & Conflict Resolution from The Werner Institute on Vimeo.
Few workplaces have as many opportunities for conflict to be destructive and potentially dangerous as health care organizations.  One health care organization in Ohio was ahead of the curve when, in 2004, they created a position of Employee Ombuds.  Laurie Miller Patterson has occupied the Employee Ombuds role since its inception in February 2005.  In this webinar, Laurie will share the kinds of conflicts that emerge within the health care setting, challenges and accomplishments she has faced in the role thus far, and why she feels an ombuds has the perfect role for supporting collaboration and addressing health care conflicts.
----------------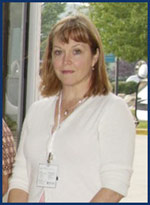 About Laurie:
an Ombuds in health care since early in 2005, assists employees throughout the system to address workplace conflict and to do so constructively.  The aims of her program are to increase employee satisfaction and retention, enhance organizational communication and work processes, and support the delivery of safe patient care. 
She accomplishes these aims through the tools of organizational Ombuds world wide, including: listening; helping visitors to sort through viable options to address concerns; coaching employees at all levels through conflict; supporting process-improvement dialogue between parties or among groups; training in relationship-building, group decision-making, communication skills, conflict resolution, and the influence of all of that on patient safety.
Having taught at eight universities in four states, Laurie has a Master's Degree in English Literature and Creative Writing from Ohio University, enticed into the field of mediation in 1989 by the community-building power of story sharing.  As a professional in conflict resolution, Laurie focused on community-based mediation, inter-cultural conflict resolution, workplace dispute resolution, facilitation, and training.  In 2010, she received the International Ombudsman Association's certification as an Organizational-Ombudsman Practitioner.
For several years, Laurie has served on the editorial board for the Journal of the International Ombudsman Association.  She is currently an adjunct faculty member with the Werner Institute for Negotiation and Dispute Resolution at Creighton University School of Law, developing curriculum for and teaching an online class in the Master's Program for Health Care Collaboration and Conflict Resolution.  Lastly, she blows off steam as a singer in an acoustic duet called The Incidents.